Construction Marketing for Hiring
Why it matters
Whats the problem?
Construction companies – and skilled labor employers as a whole – are facing a massive shortage of talent. The situation isn't getting better anytime soon. More and more high school students are opting to go to college and fewer people are going into the trades. This creates a highly competitive hiring environment. 
How does marketing help construction companies hire?
Any time competition increases the importance of having a clear strategy, story, and sentiment increases. Pandemics, recessions, and shortages are all times when competition increases. Marketing helps by establishing the three S's above. Each of the tree S's can help companies hire. Essentially, the answer boils down to purposefully building a place people want to work. If you establish your company as an organization that people want to work for, then hiring becomes much easier.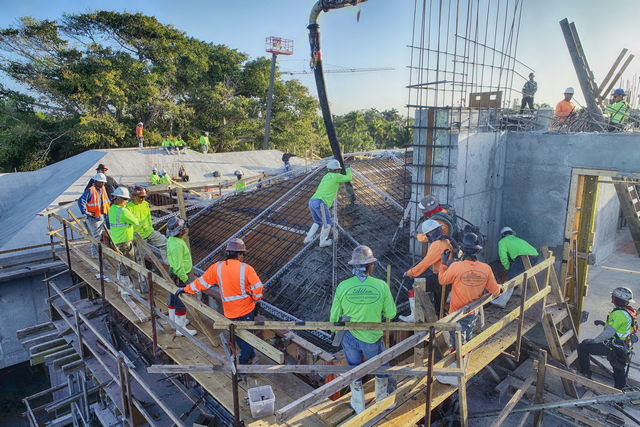 How construction marketing
works for hiring.
Generally, marketing for hiring works in a similar manner to marketing to improve sales. There are a few important things to know before diving into marketing. These tips will help improve your construction company's hiring process.
1. Marketing is ineffective if it doesn't speak truth.
Saying you're an inclusive, laid back, fun place to work is great… as long as you are. Being truthful is extremely important. Let's take the example of the contractor that claims he runs a laid back company but actually doesn't. 
This company is going to spend their time and money advertising and marketing to new hires. When a new hire looking for a fun work environment sees it and applies, they will be very unhappy on the job. They will leave. This process costs a huge amount of money. However, the damage doesn't stop there. 
There are employees that enjoy working for companies that are orderly, focused, and run a tight ship… in other words, not laid back. These are the employees that would best fit your culture and they are not applying to your position. They aren't looking for fun and laid back. They are looking for serious and orderly. Honest works for you and ensures you attract the right people to work for your company.
2. Marketing is a piece of the puzzle, not the box it came in.
In other words, you shouldn't expect organic marketing efforts to be the silver bullet that solves all your problems. Rather, good marketing enhances and enables HR teams to attract more talent. This means hires are more likely to have more experience. It also increases the effectiveness of hiring ads and paid efforts. Marketing is one piece of the solution, it is not the whole solution for marketing and hiring
3. It takes time to build a marketing presence.
Many businesses are looking to immediate change. They are looking for immediate results. Marketers traditionally have leaned on paid ads to accomplish immediate results. This works well in the short term. While we do not discount the efficacy of paid ads, organic marketing and a long term strategy will undoubtedly increase the odds of landing good prospects from paid ads. 
The kicker? Organic marketing takes considerable time to implement and build. You have to create a strategy, implement the strategy across the company, create content and media that is engaging, wait for search engines and other distributors to pick it up, then work on ensuring it has a wide reach. 
Ultimately most changes in marketing strategy take 3-6 months to start building traction. In terms of marketing with the intent to increase hiring efficiency, you can see why this creates a challenge. Does that mean you should abandon the concept as a company? No. As a construction company, culture is a big piece of the hiring puzzle. When labor markets tighten up, employees seek jobs that not only pay better but also company's who cultures best fit the employees' desires. Also, a steady focus on marketing with the intent to hire allows your HR department to grow a database of workers that can be called on when a position opens.
4. Don't over think it.
Marketing doesn't have to be as complex as many make it. Marketing is just storytelling with a mission. the story is your company's. Focusing on defining what your company does and why it does it is important to every facet of your business. Even still, many owners do not formalize the what and why of their business. This is one of the easiest ways to find a sound marketing strategy. 
The What – what your Company is About
The What helps construction companies nail down exactly what products and services generate the most revenue and at the highest margin. Know this data allows marketing teams to narrow in on the best return on investment. For hiring this simplifies the process by allowing the company to focus on hiring and recruiting strategies that connect with potential hires. 
The Why of your Company
The Why is more or less the soul of your business. If you are not a business owner, it can be hard to define a Why that isn't communicated. Often the passion for the business comes from an owner. It is reflected in every decision. This piece of our puzzle allows us to define the culture of our business. After culture is defined it can be used to communicate the kind of work environment an employee can expect. 
These two core pieces of marketing are not difficult. It takes only one strategy meeting. The executive team can get together, speak honestly about the company's motivators and be done within 45 minutes. Using a team that has been through the process and can guide the conversation can be beneficial to help the process along. It also allows for insight into how a company can leverage the What and Why to form good strategy and attract top talent. 
Marketing to attract talent is not much different than marketing for sales. The biggest difference is that while focusing on your company culture, vision, and mission is often advisable for generating more sales, it is absolutely vital to attracting quality employees. 
Make a clear strategy. Have  succinct and engaging story. Leverage employee sentiment. Keep in mind that when marketing you should always be honest, be patient, be thoughtful, but don't over complicate it, and remember that marketing is a force multiplier. It isn't a force itself. Other parts of the equation matter. 
Ultimately organic marketing boosts a company's ability to hire and retain quality employees.  
Market your
construction company
Have you recently started a construction company? Maybe you are part of an established company. If you are looking to increase your brand visibility, we would love to help you. Our team has decades of experience in numerous marketing disciplines. From web design and writing, media and content creation, SEO and analytics, and construction we have experience with it all.
We are passionate about delivering results to our clients. We love helping them increase sales and empower their teams. Our marketing helps clients generate sales, hire employees, inspire current employees, and shape their brand image.